Attractions of West Africa (Senegal, The Gambia, Guinea Bissau and Cabo Verde)
Contents
<![if !vml]>
<![endif]>
Senegal offers a competitive destination for investments in Africa, thanks to its political stability, strategic geographical position, access to the sub-regional market and improving infrastructure. Many international organisations, businesses and NGOs have made Dakar, its capital, their base for operations across the West African region. It is situated in the westernmost part of the African continent, with a coastline of 700 km, has for centuries been one of the continent's trade gateways. Senegal is a member of the Economic Community of West African States (ECOWAS), a sub-regional space with close to 300 million consumers. Its geographical position makes it a point of access to Mali and other countries in the sub-region, and a hub for trade between Africa, Europe and America. Senegal is 5 hours away from Europe, 7 hours from the United States and 9 hours from Asia by air. Dakar, is at the crossroads of several maritime routes and has a real comparative advantage for freight.
The country has a Sudano-Sahelian type climate, with a dry season from November to May and a humid rainy season from June to October. Annual average rainfall varies from 1200mm in the South to 300m in the North. Senegal has four large rivers and their tributaries, in addition to a few temporary water sources. They are estimated at 35 billion m3 of renewable surface water and 4 billion m3 of underground water. The construction of the large dams of Diama and Manantali, which Senegal shares with Mauritania and Mali through the Organisation for the Development of the River Senegal (OMVS), contributes to water resource management and hence to the development of agriculture, livestock production, the supply of drinking water and energy.
It is among Africa's most stable countries, with three major peaceful political transitions since independence in 1960. The February 2019 presidential election saw President Macky Sall win a second term. He has been in office since 2012, but his second term will be shorter due to a March 2016 referendum that reduced the presidential term from seven to five years. The country has fully functional democratic institutions and has never seen a coup since its independence. Owing to the political stability, the government has an economic vision for the country manifested in "Plan Emergent Senegal". To fight against corruption, Senegal established and is still implementing both a national and international regulatory framework. Unskilled and semi-skilled labor is abundant in Senegal, but there are relatively few highly-trained workers in the fields of engineering, information systems, and management.
Senegal's economic growth has been among the highest in Africa between 2014 and 2018, remaining above 6% annually. GDP growth was 5.3% in 2019, down from 6.3% in 2017. The services sector continues to be the largest contributor to GDP growth, while on the demand side, investment (+12.5%) and exports (+7.2%) were the strongest growth drivers It is a member of the West African Economic and Monetary Union (French acronym UEMOA), whose 8 Member States share a common currency. The CFA Franc is pegged to the euro, at a fixed exchange rate of 1 euro for 655.957 CFA franc. The Central Bank of West African States (BCEAO), headquartered in Dakar, defines and implements monetary policy within the UEMOA region. The Government of Senegal officially welcomes foreign investment. There is no legal discrimination against businesses and business conducted or owned by foreign investors. There are no barriers regarding 100 percent ownership of businesses by foreign investors in most sectors. In some key sectors such as electricity, telecommunications, water and mining, and security-related services, foreign investors may have majority control, but may not acquire 100 percent ownership.
In recent years, Senegal has pursued major investment deals with foreign partners, both private and government-controlled companies. Some projects have been offered via public tenders and some have been negotiated privately. Foreign investors have recently secured contracts to exploit mineral resources, provide garbage services, and manage Dakar's maritime port. A law to enhance transparency in public procurement and public tenders entered into force in 2008. It has an efficient dispute settlement system as
Senegal is a signatory to the New York Convention of 1958 on the Recognition and Enforcement of Foreign Arbitral Awards. There exists right to private ownership and establishment along with protection of property rights. The Senegalese Civil Code, based on French law, enforces private property rights. The code provides for equality of treatment and non-discrimination against foreign-owned businesses. Infact, It is one of the top ten improving countries, as per World Bank's Doing Business report with GDP:  USD 24.13 bn (2018 est) and GDP per capita (PPP): USD 3,500.
Senegal is Francophone country but the people understand and appreciate the Indian values, customs etc. Bollywood has created soft power for India which is waiting to be yielded appropriately.
<![if !vml]>
<![endif]><![if !vml]>
<![endif]>

Important links:
https://www.developingmarkets.com/sites/default/files/FCO-445-Doing-Business-in-Senegal-Print-lr.pdf (Report by British Embassy)
https://www.worldbank.org/en/country/senegal/overview (Overview by the World bank)
https://www.doingbusiness.org/content/dam/doingBusiness/country/s/senegal/SEN.pdf (Ease of doing business in Senegal report)
<![if !vml]>
<![endif]>
The Gambia is one of the small countries in West Africa with a total area of about 10,600 square kilometers. It is bounded on the West by the Atlantic Ocean and on all other sides by the republic of Senegal. The country forms a narrow stretch of land from the coast to about 400 kilometers inland, varying in width from about 50 kilometers near the coast to less than 35 kilometers island. The River Gambia is by far the most important geographical feature and it divides the country into two equal parts. It provides excellent river transport and is rich in fish resources, both marine and fresh water fishes. Lying within the sahelian zone, the Gambian climate is characterized by a long dry season from November to June and a short rainy season extending from June to October. The current population is estimated at 1.5 Million (1994 projection) with an annual growth rate of 3.5 per cent. About 80 percent of the population live in the rural areas and are predominantly farmers.
Since independence in 1965, the Gambian economy is still dominated by Agriculture with groundnut production as its principal cash crop. Due to vagaries of weather, this economic sector continues to be severely constrained in terms of output compared with production inputs and therefore resulting to continuous decline in our overall gross domestic products and foreign exchange earnings. In an endeavor to reverse this decline in the economy, the government had put in place the Economic Recovery Program (ERP) in 1985 which placed emphasis on major policy reforms in key economic agents as well as sectors. These reforms included inter alia: Liberalization of foreign exchange, divestiture and privatization of parastatals and government shares in other enterprises, reforms in key institutions providing support services to tile private sector, and liberalization of business activities with less interference by the government in the interactions of various economic agents in the country. The ERP was succeeded by the Program for Sustained Development (PSD). This also placed emphasis on consolidating the achievements made under the ERP with the major policy thrust of private sector led-growth through further diversification of economic activity and provision of more incentives to enhance private sector participation in tile economic development process.
The government has set priorities to the following economic sectors considered having value-added contribution, foreign exchange-e earnings and employment creation potentials: Agriculture, Manufacturing, Fishing, Mining and quarrying, Forestry, Livestock, Tourism, Financial services(including offshore business). Projects in these sectors are awarded incentives in the form of duty waiver on capital equipment, spare parts, materials, and raw and/or semi-finished material inputs. Other incentives include preferential allocation of land to the project, on-the-job training and technical assistance, and identification of market opportunities for projects in the export sector. The government is committed to the development and expansion of export-led activities in the country. In this regard, investments in air cargo services and maritime shipping to enhance exports, are also considered for the award of investment incentives.
There continues to be sustained improvement in basic infrastructure, including the notably expansion of the Road Network, Telecommunication System, Seaport and Airport and the Electricity System. The Port of Banjul is the main seaport that serves The Gambia's seaborne trade and is one of the World's busiest Shipping lanes. The Port has a deep sheltered anchorage with no record of piracy and is internationally recognised as one of the safest and most efficient ports in West Africa. It offers a prompt, reliable and value-for-money service. The port's well developed facilities can handle any type of cargo, while its infrastructure, competitive tariffs, use of information technology and dedicated professional workforce ensure that the customer is always provided with the highest quality of service. The flights are equally effective. There are direct flights from Banjul to London and Brussels and other major world destinations such as the US, Frankfurt, Hong Kong, Taiwan, Japan, and South Africa can be reached via London and Brussels or via Dakar which is 20-25 minutes by air from Banjul.
Gambia has cheap labour force with abundant semi-skilled and unskilled labour force helping in lower operational cost. English is the country's official language and most commonly spoken language in the business arena thus making it closest English-speaking African country to Europe. The Gambia benefits from unrivalled access to a large and growing market in West Africa, where The Gambia's membership to the Economic Community of West African States (ECOWAS) trading bloc ensures easy market access to over 300 million people and International Markets with well-functioning customs and port services, low import duties with duty waiver incentive scheme for GIEPA SIC and EPZL holders along with simplified administrative and business registration and custom procedures.
According to UNCTAD World Investment Report 2020, FDI inflows in Gambia decreased slightly from USD 33 million to USD 32 million between 2018 and 2019. The total stock of FDI was estimated at USD 443 million in 2019. Agro-processing activities and tourism attract most of the FDI. The main investors are India, Lebanon, Mauritania, China and the United Kingdom. The Country ranked 155th worldwide in the 2020 Doing Business report, losing five places since the previous edition. The Gambia offers tax incentives, transparent and simple procedures as well as a strong potential in the tourism and re-export sectors. Its limited size and its landlocked position can be impediments to investment. Since the election of new President Adama Barrow, the government is working to attract more foreign investments in the country. These investments are mostly concentrated in the agro-food and tourism sectors. Through the National Entrepreneurship policy, the State promotes business creation in order to diversify the economy. Tax advantages, simple procedures and tourism's strong potential are some of the country's main assets.
Important links:
https://www.doingbusiness.org/content/dam/doingBusiness/country/g/gambia/GMB.pdf (Ease of doing business in The Gambia report)
http://www.giepa.gm/node/34 (Website of Gambia Investment and Export Promotion Agency)
<![if !vml]>
<![endif]><![if !vml]>
<![endif]>
Located in West Africa, bordering with Senegal and Guinea Conakry, Guinea-Bissau is a relatively small country, with 36.125 sq. Km. Around 25% of the total population is based in the capital (Bissau). The official language is Portuguese. Guinea-Bissau is also characterized by a very high level of young population (the medium average age is only 18 years).Despite of the political instability which has been limiting the economic activity during the past years, the country hides very important natural resources which, by one reason or the other, remain almost unexploited.
The economy is currently based on agriculture and the production and exportation of cashew (Bissau is the 5th world producer of cashew nuts), fish and shrimp. Furthermore, 25% of the world-known resources of bauxite and other rare earth elements (REE's) are estimated to be located in Guinea-Bissau. Bauxite reserves are estimated at 17 million tons. Also, important fishing reserves and natural resources of phosphates, diamonds, gold and timber are available and currently continue to be partially unexploited. Reserves in offshore deposits of oil have been discovered in the past and several companies are already settled there for prospecting and production.Guinea-Bissau is particularly attractive for those interested and investing in solar plants and generation of electricity capacity.
Guinea-Bissau is a member of the CFA franc monetary system, meaning its currency is guaranteed by the treasury of France. After several political upheavals, the main political parties in the country have signed a stability pact and the International Monetary Fund has backed a structural reform program. The result has been that Guinea-Bissau's economy is coming to life. The people of Guinea-Bissau as a whole are known for their a hard-work ethic and friendliness. Today, given the country's improved circumstances, the government is actively courting foreign investment and offering multiple incentives and safeguards.
The nation is known for its astounding natural beauty, characterized by beaches and wildlife. Picturesque fishing villages line the forested coast, while the interior is dry. Guinea-Bissau is a member of the African Union, Economic Community of West African States, the Organization for the Harmonization of Business Law in Africa (OHADA) and the South Atlantic Peace and Cooperation Zone.
According to a World Bank report, "Doing Business 2015," Guinea-Bissau's business climate as measured across multiple indicators – e.g, getting credit, obtaining licenses, even basics like securing real estate and electricity – is improving. The currency is stable. Starting a business is easier. Investor protections have improved and in fact Guinea-Bissau ranks first among its peers in protecting minority investors and company directors. Its geographic situation makes Guinea-Bissau a convenient location for transporting goods to and from world markets. There are many people available to work, and there is experience, particularly in the farming and fishing sectors. The country's stretch of Atlantic coast and natural beauty suggest a thriving future tourism industry. For investors, many opportunities for agriculture – large expanses of undeveloped land combined with the prevalence of traditional farming techniques mean that modernization can have major impact on productivity. In addition, climate and conditions are favorable to agriculture. The same is true of fishing, a sector that holds the promise of incrased productivity through modernization. To spur economic growth, the government of Guinea-Bissau is offering incentives, protections and guarantees to investors:
In recent years, Guinea-Bissau had been able to attract relatively substantial sums of foreign investment. According to the UNCTAD World Investment Report 2020, FDI inflows slightly increased from USD 21 million to USD 31 million between 2018 and 2019. The FDI stock rose to USD 229 million in 2019. The tourism sector is also being developed and receives growing investments.
Important links:
http://guinebissau.com/investment-oppurtunities/ (Website of Guinea Bissau National Investment Agency)
https://www.afdb.org/en/countries/west-africa/guinea-bissau/guinea-bissau-economic-outlook (Guinea Bissau Economic outlook by African Development bank)
<![if !vml]>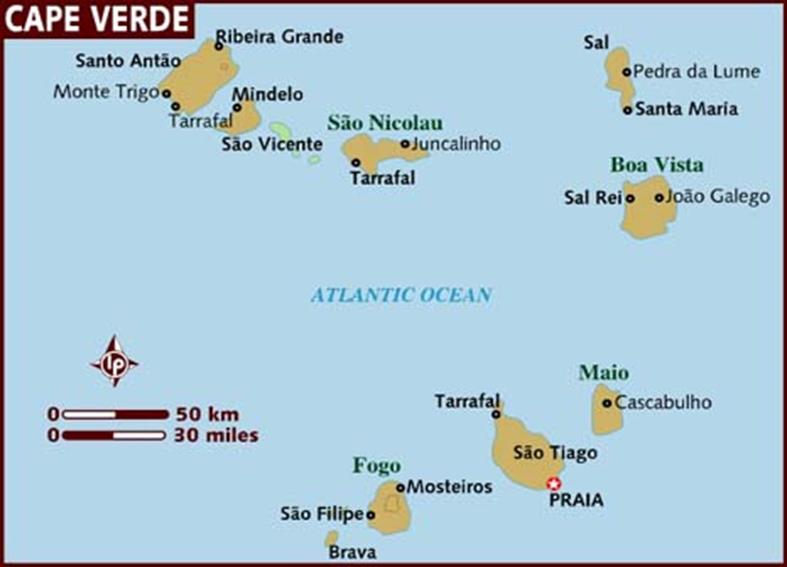 <![endif]>
450 km from the west African coast, in the middle of the Atlantic Ocean, Cabo Verde benefits from a good strategic geographic location, between the African, European and American continents, and the less than 4 hours of flight from Europe and America. The country's position as a crossroads between Europe, America, and continental Africa, with direct commercial flights to each is an enormous value added. The country consists of 10 islands of which 9 are inhabited. The official language of Cabo Verde is Portuguese Politics in Cabo Verde have been largely consensus-oriented, and since its independence from Portugal in 1975, Cabo Verde has not experienced a single coup d'état. Elections are considered free and fair, and parties in power alternate regularly, thus forming a stable political government. Since the 70s, democratic processes have continually improved bringing the country into the present day where it boasts a pluralistic, multi-party system that was realised in 1991. Freedom House, the US-based NGO that records and scores societies on their levels of political rights and civil liberties, rates the nation highly. In 2018, Cabo Verde was the only African country to receive a perfect score in Freedom House's Freedom in the World survey, narrowly outpacing many western nations including the United States. It boasts an incredible year-round climate with many calling it the "Caribbean without the hurricanes." Several global hotel chains have invested into the archipelago including the luxury brand Hilton, who have recently started construction on €46 million 240 room hotel on Sal island. The archipelago is widely regarded as having some of the best beaches in the world in addition to providing world-class conditions for watersports such as windsurfing. Unlike many competing tourist destinations, Cape Verde offers an incredibly safe environment to invest in free from any religious conflict. Cabo Verde has a projected growth rate of 5.1%. It is currently ranked 2nd in Africa for both low corruption and good governance. It is the only country in the region to graduate upwards from LDC status to Middle Income Country. It has robust economic growth, low fiscal deficit and scores high on Developmental Indexes
Important links:
https://cvtradeinvest.com/en/#:~:text=We%20chose%20Cabo%20Verde%20because,a%20high%2Dlevel%20tourist%20destination. (Website of CV trade invest)
https://www.doingbusiness.org/content/dam/doingBusiness/country/c/cabo-verde/CPV.pdf (Ease of Doing business in Cabo Verde report)